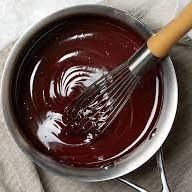 Our Chocolate Ganache is a mouth-watering icing, glaze, filling for cakes & pastries made from chocolate & cream. We have added a little Mondo magic to create our own delicious taste!
We have this smaller container for decorators that don't need a bulk container of ganache 
Also available 3kg 
Mondo ganache can be kept in the fridge for up to 30 days 5degrees
Ingredients: Sugar, Vegetable fat, Cocoa, Whey powder, Emulsifier (492 soya lecithin) Salt, flavours, pasteurised cream, Mineral salts(450,500)Thickener(400)
Storage Conditions: Store under refrigeration at below 5oC 
GMO Status: To our knowledge and information the above product has not been derived from genetically modified raw ingredients.
Allergens: Product may contain traces of Lupin,peanuts, or other nuts, sesame seeds, milk & milk products & eggs used in the production process.