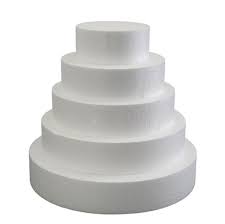 Foams ROUND **BUY 10 or MORE Boards or Boxes or Foams get 10% OFF**
Often called Foam, Styrofoam or dummy cake, these can be used for a variety of purposes. Entering competitions, displays for windows, practicing your decorating skills or saving your customers money when you don't need "more" cake. 
Available from 5"-16"
All of foams are 3" high (8cm)
Also available in Squares