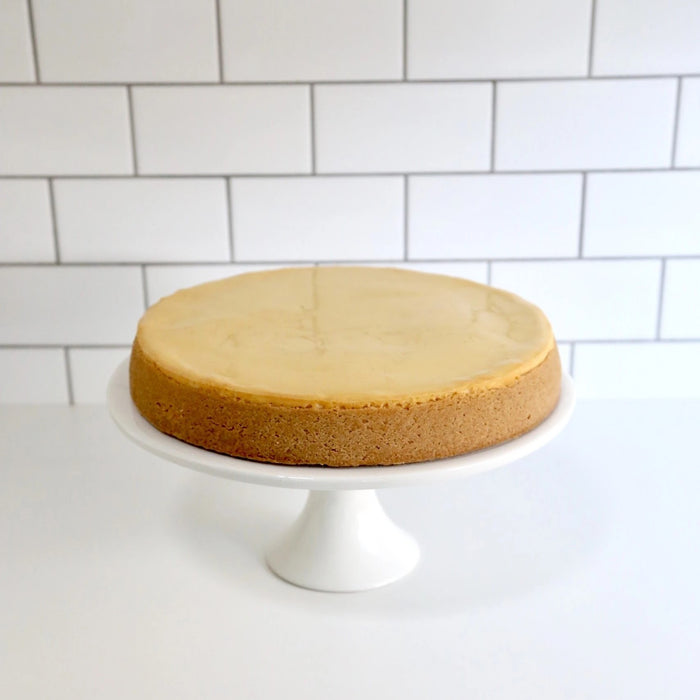 Large Baked New York Cheesecake
Mondo's Original Baked Cheese tart - a smooth creamy cheese tart undressed with a hint of lemon that melts in your mouth - add a little fresh whipped cream on the side - perfect served at room temperature - also available in individuals.
11" round (28cm) serves 14-16 slices - Can be Frozen - shelf life 7 days after purchase refrigerated below 5 degrees.
Shelf Life:  7 Days after Delivery at below 5 oC.
                  30 days after Delivery at below -18 C                             
 Ingredients: Ricotta Cheese: [Milk, Cream, Salt, Stabiliser (410, 412), Starter Culture], Egg, Sugar, Milk Solids, Cream, Vegetable Fat, Vegetable oil, Glucose, Water, Dextrose (wheat), Lemon Juice, Corn Flour, Wheat Flour, Wheaten Cornflour, Butter, Golden Syrup, Salt, Maltodextrin, Emulsifier (471, 322soy, 433), Food acid (330, 331), Antioxidant (320, 322, 306, 307), Vegetable Gum (466, 407a), Stabilisers (440, 509), Colour (160a, 102, 110), Preservative (202), Modified maize starch (1422), Modified tapioca and waxy maize starch (1442), Mineral Salts (340, 500, 503, 450), Flavours.
  Nutrition Information:     
Servings per package:  6
Serving size (average):  95g
 

Ave. Quantity per Serving

Ave. Quantity per 100g

Energy

1365kj

1437kj

Protein

6.7g

7.1g

Carbohydrate

                  - Total

 

27.9g

 

29.4g

                  - Sugars

16.0g

16.8g

Fat - Total

       - Saturated

21.1g

13.0g

22.2g

13.7g

Sodium

219.6mg

231.2mg

 
Storage Conditions: Store under refrigeration less than 5oC or store frozen at less than -18 oC.
GMO Status: To our knowledge and information the above product has not been derived from genetically modified raw ingredients.
Allergens: Product may contain traces of Lupin, peanuts, or other nuts, sesame seeds, milk & milk products, eggs, Gluten, soy, sulphite maybe used in the production process.