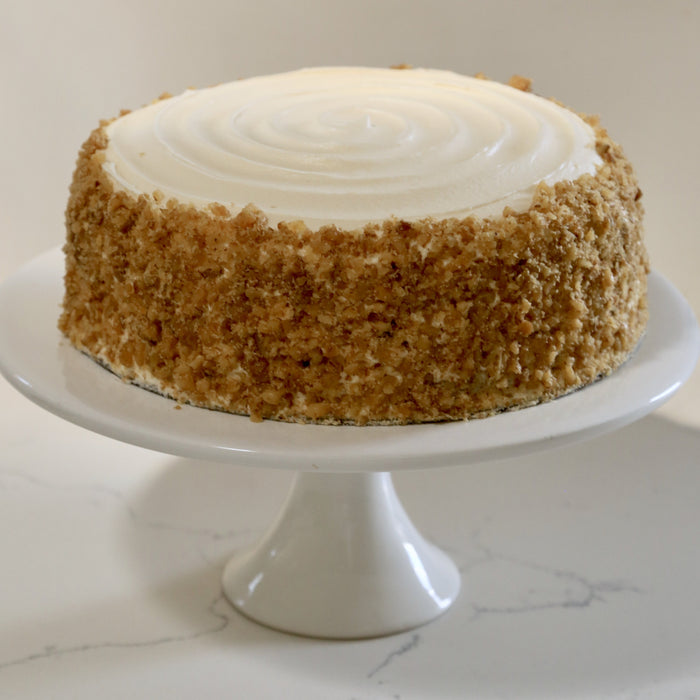 10" Carrot & Orange Large
A sweet moist cake with real carrots & caramelized orange - giving the cake colour and texture when cut - it is then covered with orange cream cheese and toasted nuts.  (this cake has nuts) 
10"round (25cm) Serves 12-14 slices - Can be Frozen - shelf life 10 days after purchase refrigerated below 5 degrees.
Available in Individuals & 7"round 
Ingredients: Sugar, Vegetable oil, egg pulp, Carrot (12%), Orange (6%), Wheat Flour, Walnuts, Spices, Salt, Stabilizer (410, 412), Mineral Salts(450, 500),Wheat Starch Cheese, Unsalted Butter, Flavour, Colour (102, 110), Citrus Oil, Vegetable Gum (415), Food Acid (330), Preservative (211)
Shelf Life:  7-10 days refrigerated 5degrees C
Storage Conditions: Store under refrigeration at below 5oC
GMO Status: To our knowledge and information the above product has not been derived from genetically modified raw ingredients.
Allergens: Product may contain traces of Lupin, peanuts, or other nuts, wheat gluten, sesame seeds, milk & milk products & eggs used in the production process. Made on premises with sesame seed and soy flour are also produced.