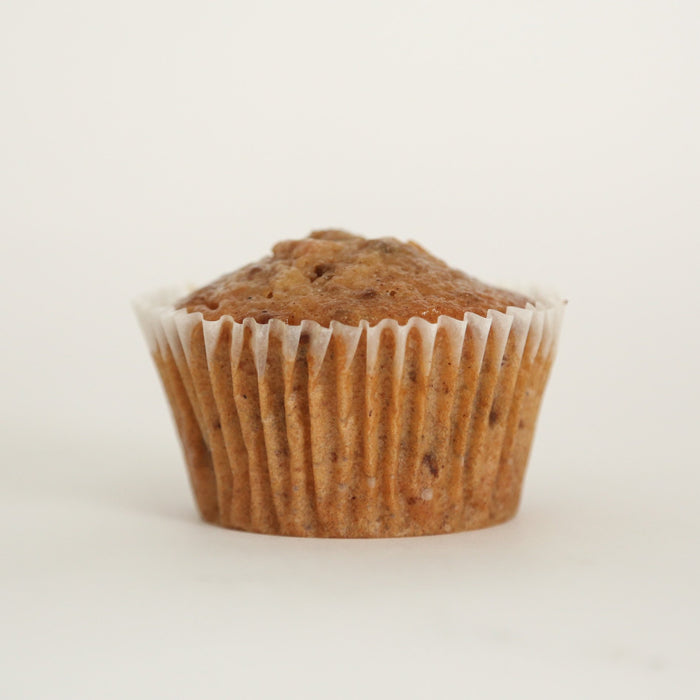 12 Naked Banana Cupcakes 7cm (No 3 in sample box)
Our Banana cake is a moist unique cake right our of grandma's recipe book  
700mm (7cm) - Height: approx 3cm - come in white cups - can be frozen up to 3 months - best results to decorate at room temperature.

12 per box also available in mini cupcakes 24 per box

Happy Decorating!!
Shelf Life: 10 days refrigerated 5degreesC
Ingredients:  Banana (15%), Sugar, Wheat Flour, Cheese: [Milk, Cream, Salt, Stabiliser (410, 412), Culture], Vegetable Shortening [Vegetable Fats And Oils, Emulsifiers (471, 477, 322), Antioxidant (320)], Egg, Unsalted Butter, Passionfruit Pulp Concentrate, Wheaten Cornflour, Mineral Salts (500, 541, 450), Humectant (420), Salt, Milk Solids, Emulsifiers (471, 472B, 477, 491), Flavours, Maltodextrin, Maize Starch, Vegetable Gum (415), Stabiliser (450A), Spices, Food Acid (300), Colours (102,110), Preservative (202)
Storage Conditions:          Store under refrigeration at below 5oC
GMO Status: To our knowledge and information the above product has not been derived from genetically modified raw ingredients.
Allergens: Product may contain traces of Lupin,peanuts, or other nuts, wheat gluten, sesame seeds, milk & milk products & eggs used in the production process.