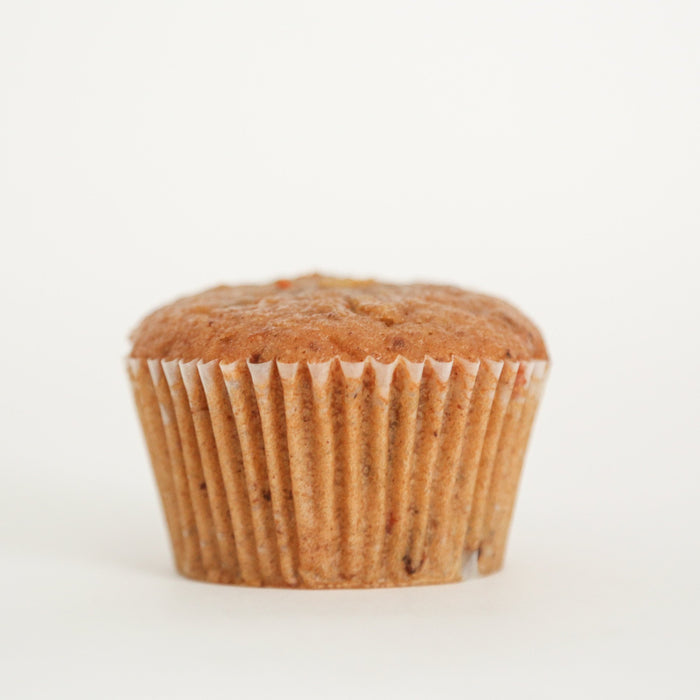 12 Naked Carrot & Orange Cupcakes 7cm (No 2 in sample box)
Carrot cake one of the popular flavours, moist with real carrots and caramelized orange giving the cupcake colour and texture - 12 per box (this cake has nuts) 
700mm (7cm) - Height: approx 3cm - come in white cups - can be frozen up to 3 months

12 per box also available in mini cupcakes 24 per box

Available in 10" 7" finished (iced) cake & catering sheets

Best results to decorate at room temperature.
Happy Decorating!
Ingredients:  Walnuts, Sugar, Vegetable oil, egg pulp, Carrot (12%), Orange (6%), Wheat Flour, Spices, Salt, Stabilizer (410, 412), Mineral Salts(450, 500),Wheat Starch Cheese, Unsalted Butter, Flavour, Colour (102, 110), Citrus Oil, Vegetable Gum (415), Food Acid (330), Preservative (211)
Shelf Life:  7-10 days refrigerated 5degrees C
Storage Conditions: Store under refrigeration at below 5oC
GMO Status: To our knowledge and information the above product has not been derived from genetically modified raw ingredients.
Allergens: Product may contain traces of Lupin, peanuts, or other nuts, wheat gluten, sesame seeds, milk & milk products & eggs used in the production process. Made on premises with sesame seed and soy flour are also produced.