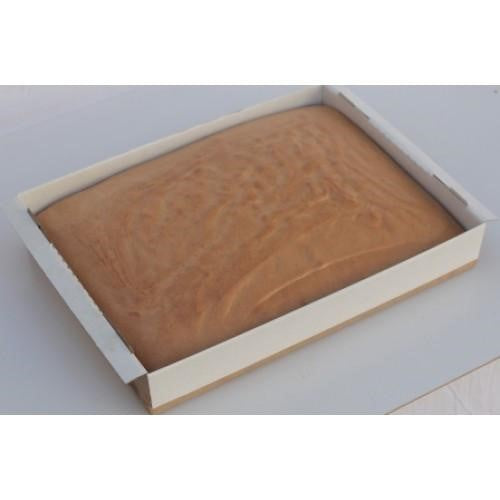 Naked Coconut & Lemon Catering Sheet (30cm x 40cm x 7cm)
 Coconut & Lemon catering sheet , With a fine coconut crumb we have added a  delicate lemon twist, to make this cake a winner with your customers. This cake is similar to our Citrus Orange, it has a zing of lemon & the sweetness of Coconut making it a refreshing cake, perfect for spring or winter
Available standard cupcakes (not mini's)  Round, Square & cupcakes
We suggest the best results for decorating is..
Set your cake up cold from refrigerator - cutting - ganaching etc then decorate your cake at room temperature!
Happy Decorating!
INDREDIENTS:                   
Vegetable oil, ,Gluten flour, Coconut, Lemon, Thiamin and Folic acid, Bakers yeast, Salt, Sugar, Almond meal, Wheat flour, sugar, vegetable shortening, vegetable Fats & oils, emulsifiers(471,477,472b,491,322) Antioxidants(322,307) Thickeners(1422&415) Raising agents (500,450,541) Humectant(420) milk solids, whole egg, salt, Maltodextrin, flavour Emulsifiers 491,471,472b 477} Pregelatinised maize starch Colours (102,110),wheat starch
Shelf Life: 10 Days stored below 5C OR 90 Days below -18c
GMO STATUS: To our knowledge and information the above product has Not been derived from genetically modified raw Ingredients.
ALLERGENS: Wheat, gluten, dairy soy. Product may contain traces of Lupin, peanuts, or other nuts, wheat gluten, sesame seeds, milk & milk products & eggs used in the production process