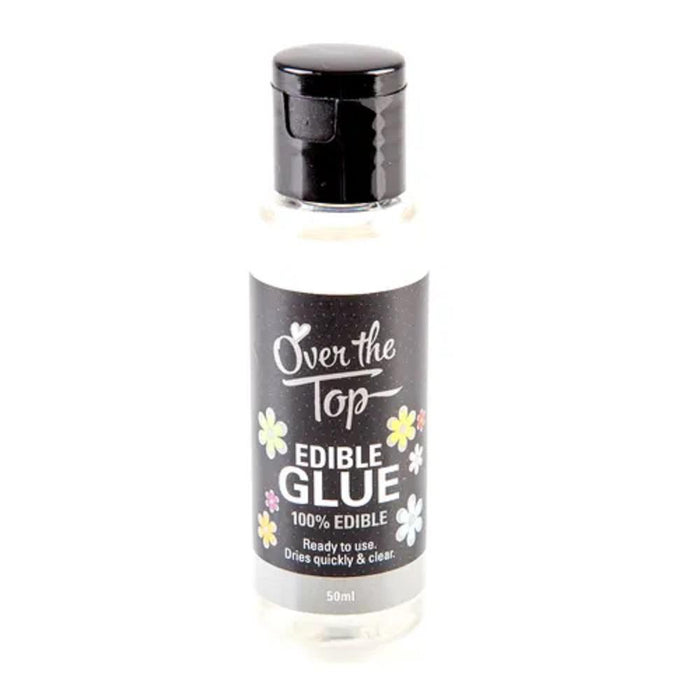 EDIBLE GLUE 50ml Over the Top
Create Luxury Sugarcraft and fondant decorations with the OTT Edible Glue.

Edible glue is a food-safe adhesive that is used in various culinary applications. It is made from edible ingredients and is safe for consumption. Edible Glue serves several purposes in the world of baking and cake decorating. Here some common uses;

Cake Decorating – Edible glue is commonly used in Cake Decorating to attach edible decorations such as fondant accents, gum paste flowers and edible glitter. It helps these decorations adhere securely to the cake's surface.

Edible Paper and Wafer Sheets - Edible glue is applied to edible paper, wafer sheets, or edible images to adhere them to cakes or cupcakes. This is often done for cake toppers or personalized decorations.

Cookie Decorating - When decorating cookies with royal icing or fondant, edible glue can be used to secure small details or edible decorations onto the cookies.
Edible Art Projects/ Crafts - Edible glue is used by pastry chefs and food artists to create intricate edible art pieces, such as sugar showpieces and sculptures.

Allow you creations to completely dry before using. Our Edible Glue is Ready to use, and dries quickly and clear.