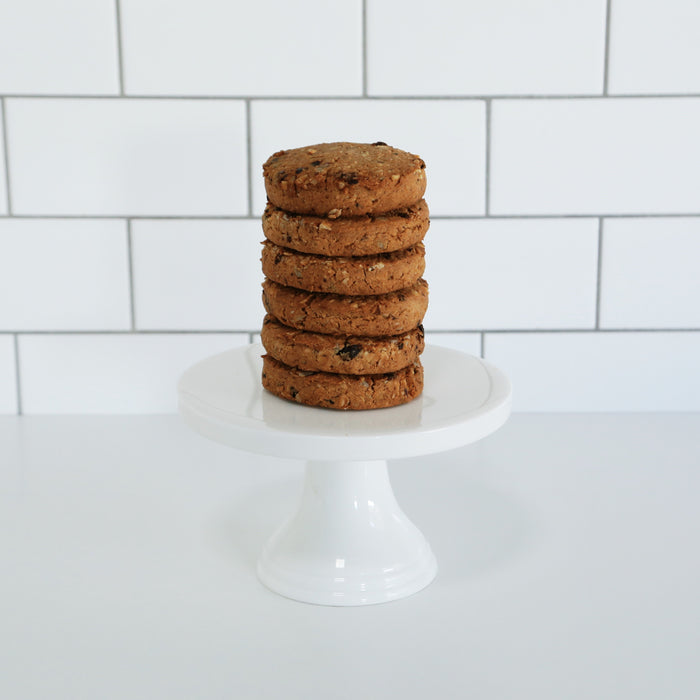 6 "Shakti" Muesli Natural Cookies
Our healthy Shakti Cookie means "Divine Energy" is now available in a box of 6!
A perfect last minute gift to take to a dinner party - morning or afternoon tea! 
This cookie is filled with Dates, Oates, Apricots, Almonds, Coconut, Sunflower seeds, Muesli & Nuts - perfect with a cuppa or a coffee whatever tickles your palate.

 Shelf Life: 30 days after delivery at ambient temperature stored in an air tight container.
9-10cm diameter
6 per box 
Ingredients: Dates,Oates,Apricots,Almond,Coconut,Sun flower seeds, Wheaten flour, Baking Powder, Sugar,Vegetable Oil,Water,Salt,Milk Solids,Emulsifiers(471,Soyabean
Lecithin)Flavour, antioxidant(320),colour (160a).
Main ingredient : Almonds
GMO Status: To our knowledge and information the above product has not
been derived from genetically modified raw ingredients.
Allergens: Product may contain traces of Lupin, peanuts, or other nuts, sesame seeds, milk & milk products, eggs, Gluten, soy, sulphite