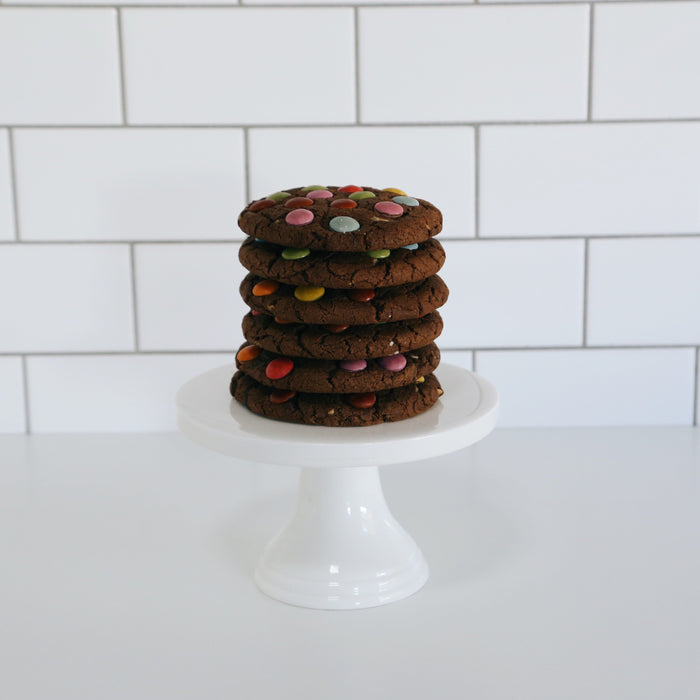 6 Triple Chocolate Flourless Cookies with Smarties
Flour Intolerance? Our super special Chocolate flour free cookie topped with children's favourite smarties now available in a box of 6!
A perfect last minute gift to take to a dinner party - morning or afternoon tea! 
A definite temptation for not only the little kids big kids too.

6 per box 
9-10cm diameter
Shelf Life: 6 weeks from date of package
Ingredients: Starches (maize ,potato, tapioca)Soy Protein, Soy Flour, Modified Starch(1442)Emulsifiers(471,475)Raising Agents(341,500,541)Thickeners (412,415)Sugar, Compound chocolate (23%)Vegetable fat, cocoa powder, milk solids, emulsifiers(322soy,492)flavours, Dextrose, Maltodextrin, Cocoa powder(3%)Mineral salts (341500)vegetable oil(anti-oxidants(307)salt, flavour
Storage Conditions:  Cool dry place
GMO Status: To our knowledge and information the above product has not been derived from genetically modified raw ingredients.
Allergens: Product may contain traces of Lupin, peanuts, or other nuts, wheat gluten, sesame seeds, milk & milk products & eggs used in the production process.