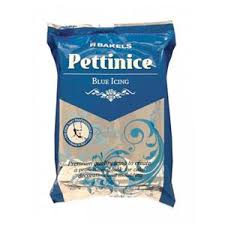 Bakels CARTON BLUE 6X750g
Bakels Pettinice Ready to Roll icing is considered to be one of the finest ready to roll icing fondant and is the preferred choice of most professional bakers. Made in Australia.

Bakels 750g BLUE ready to roll icing is considered one of the finest icing fondants and is the preferred choice for many professional cake decorators. It taste great, has a mild vanilla flavour taste that does not take away from the taste of your cake. Is easy to use, produces a nice satin finish, doesn't tear easily, has great texture and is perfect for moulding. You can easily add colour or lighten any colour by adding white. 
Gluten Free, Dairy Free, Vegetarian, Halal, Kosher.

Use this Pettinice Colour Mix Guide to achieve perfect colours every time.