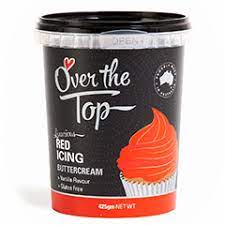 OVER THE TOP Buttercream 425g
 Over the Top buttercream is a ready to use yummy and fluffy buttercream icing. Over The Top Buttercream is great for icing and decorating. Over the Top buttercream is smooth and silky with superior piping consistency. It is perfect for filling cakes, piping on cupcakes and more. Over the Top buttercream is Australian made and it's gluten free, nut free, egg free and dairy free, making it suitable for vegans.
 Size: 425g
Using instructions: For best results, mix the icing on low for a few minutes before use. But this buttercream icing can also be used straight from the tub, just open it and start decorating.