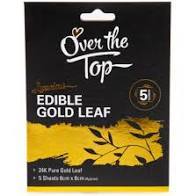 Luxurious Edible Gold Leaf -  If it's opulence or luxury you are trying to achieve for your next decorated cake, slice or cupcake, then the Over The Top Edible Leaf is a must-have product.
The Packet contains five 8 x 8 cm transferable sheets, in either 24k Carat Pure Gold or Silver. It's stunning metallic finish will create a decadent finish to your baking goods and is ideal for special occasions such as weddings, christenings or engagement parties. 
Gold leaf is extremely delicate so care must be taken when taking them out of the packaging & applying.