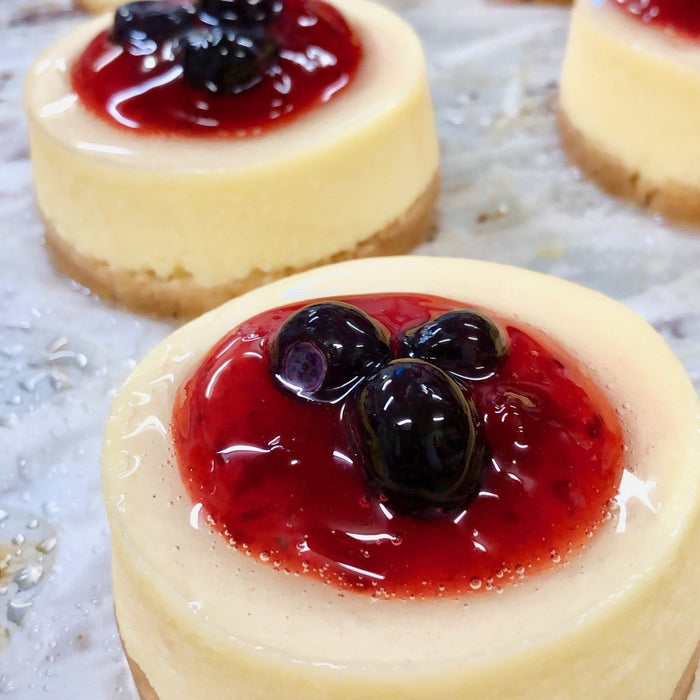 6 IND Blueberry Baked Cheese
If your a Blueberry fan our Individual Baked Blueberry Cheesecakes will just melt in your mouth, piled high with whole glazed blue berries - finish off with some fresh whipped cream on the side... best served at room temperature!
Can be Frozen - Shelf Life 7 days after purchase refrigerated below 5 degrees
Individual Blueberry Cheese 6 per box
Available in a Large cake
Shelf Life:  7 Days after delivery at between 0 - 5°C
Ingredients: Milk, Milk solids, salt, food acid (260) Flavor color (150)  pasteurized cream, mineral salts (450, 500 ) Thickener (400) , sugar, fresh egg), TATCC9 (410, 412) and starter culture, wheat flour, vegetable fat containing (Lecithin322,Antioxidant 307 ), whey powder, Raising agents (500,503)sugar syrup(sucrose glucose ) vegetable gums (407,415,406)food acids (332,330,296)preservatives(200,211,223,202) Blueberries ,Strawberries, thickener(1422) ,vegetable gum (440),mineral salt (509)color (124)
Nutrition Information
Servings per package: 530.00
Serving size: 100.00 g
Average Average
Quantity per Quantity per
Serving 100 g
Energy 1080 kJ 1080 kJ
Protein 5.0 g 5.0 g
Fat, total 13.6 g 13.6 g
- saturated 7.5 g 7.5 g
Carbohydrate 28.6 g 28.6 g
- sugars 20.2 g 20.2 g
Sodium 169 mg 169 mg

Main ingredient :        Ricotta cheese 30 %
Storage Conditions:   Store under refrigeration between 0 – 5°C.
GMO Status: To our knowledge and information the above product has not been derived from genetically modified raw ingredients.
Allergens: Product may contain traces of Lupin, peanuts, or other nuts, wheat gluten, sesame seeds, milk & milk products & eggs used in the production process.