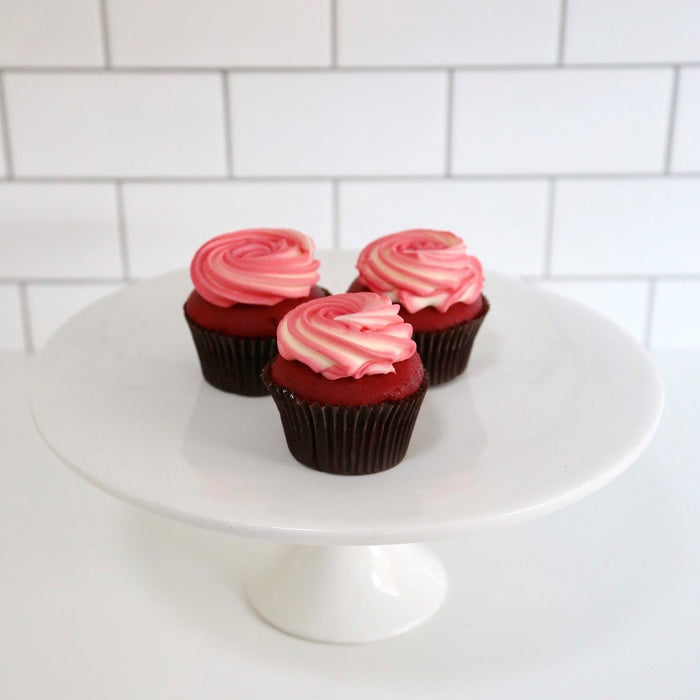 Our very popular Red Velvet individual cupcakes - like our large red velvet stunning red in colour topped with a swirl of cream cheese icing - perfect for any celebration!
Can be frozen - shelf life 10 days after purchase refrigerated below 5degrees
Available in Large cake & in our Naked cake range 
Ingredients: Sugar, Wheat Flour, thiamine , folate ,cocoa powder, vegetable oil, antioxidant (307,320,322) vegetable fat emulsifiers (471,477,491,472b)  maltodextrin, potato flour, milk solids, salt, raising agents (341,450,500,541)natural flavour colour (120,102,110),vegetable gum (415),egg powder,
Thickeners(1422&415) Humectant(420) whole egg, salt, Pregelatinized maize starch
Sugar, Milk, cream, salt, stabilisers (410,412)starter culture, butter(pasteurised cream)
Storage Conditions: Store under refrigeration at below 5o
GMO Status: To our knowledge and information the above product has not been derived from genetically modified raw ingredients.
Allergens:                         Product may contain traces of Lupin, peanuts, or other nuts, sesame seeds, milk & milk products, eggs, Gluten, soy, sulphite maybe used in the production process.