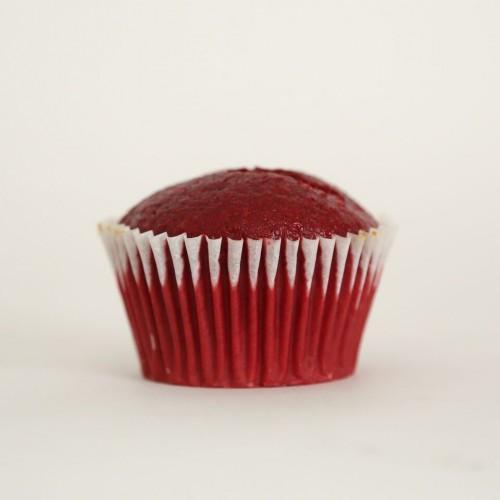 24 Naked Mini Red Velvet Cupcakes 398mm
Our moist Red Velvet cupcake has become the latest trend in the decorating world light & fluffy and very "red"
398mm D94mm BASE 38mm HEIGHT 28mm

24 per box also available in standard cupcakes 12 per box

Available also in rounds squares & Catering sheet
 INGREDIENTS: Sugar, Wheat Flour, thiamine , folate ,cocoa powder, vegetable oil, antioxidant (307,320,322) vegetable fat emulsifiers (471,477,491,472b) maltodextrin, potato flour, milk solids, salt, raising agents (341,450,500,541)natural flavor colour (120,102,110),vegetable gum (415),egg powder, Thickeners(1422&415) Humectant(420) whole egg, salt, Pregelatinised maize starch

SHELF LIFE: 10 Days stored below 5C OR 90 Days below -18c

ALLERGENS: Wheat, gluten, dairy soy Product may contain traces of peanuts, or other nuts, Sesame seeds, milk & milk products & eggs in the Production process.

STORAGE CONDITIONS: Store under refrigeration less than 5C

GMO STAT\US: To our knowledge and information the above product has Not been derived from genetically modified raw Ingredients.

ALLERGENS; Product may contain traces of Lupin, peanuts, or other nuts, wheat gluten, sesame seeds, milk & milk products & eggs used in the production process.