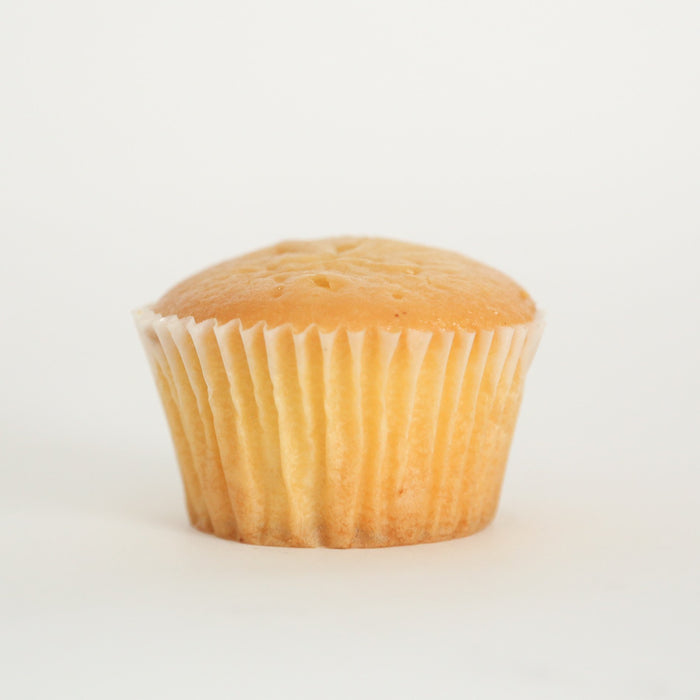 24 Naked Mini White Choc Cupcakes 398mm
White Chocolate mini cups, special occasions deserve special cupcakes - light and fluffy for lovers of white chocolate  24 per box 
398mm D94mm BASE 38mm HEIGHT 28mm

24 per box also available in standard cupcakes 12 per box

Available also in rounds squares & Catering sheet
 Keep cupcakes in fridge until it is decorating time!
Ingredients: Wheat flour, sugar, vegetable shortening, vegetable Fats & oils, emulsifiers(471,477,472b,491,322,492,soy lecithin) Antioxidants(322,307) Thickeners(1422&415), Raising agents (500,450,541) Humectant(420) milk solids, whole egg, salt, Maltodextrin, flavours, Emulsifiers 491,471,472b 477} Pregelatinized maize starch, Colours (102,110),wheat starch, whey powder,
Shelf Life:10 Days stored below 5C OR 90 Days below -18c
Storage Conditions: Store under refrigeration less than 5C
GMO Status: To our knowledge and information the above product has  Not been derived from genetically modified raw Ingredients.
Allergens:  Wheat, Gluten, Dairy. Product may contain traces of Lupin, peanuts, or other nuts, sesame seeds, milk & milk products, eggs, Gluten, soy, sulphite maybe used in the production process.