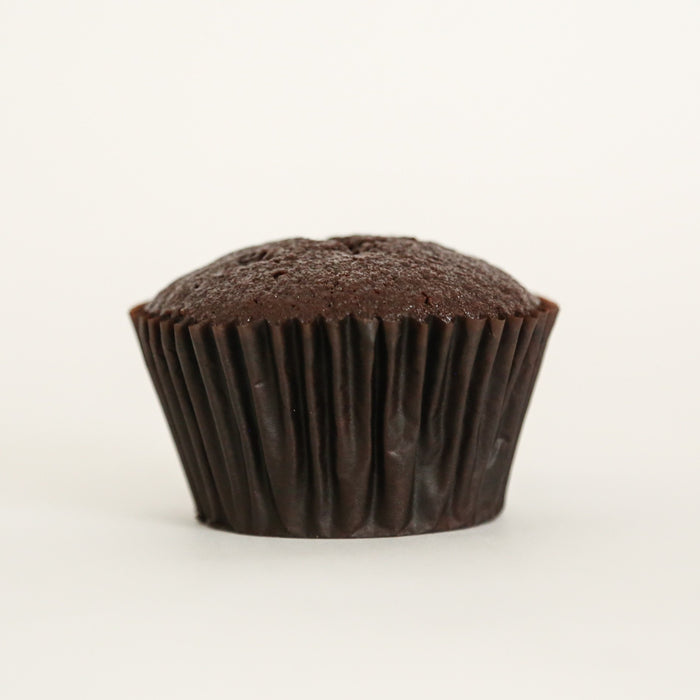 12 Naked "Flourless" Chocolate Cupcakes 7cm
"Flour free" Chocolate cupcakes - Don't be turned off when you read Flourless, these cupcakes are still completely addictive being flour free. Moist & rich, they are a must try!   12 per box
700mm (7cm) - Height: approx 3cm - come in white cups - can be frozen up to 3 months - best results to decorate at room temperature.

12 per box also available Round & Square cakes mini cupcakes 24 per box

Happy Decorating!
Ingredients: Sugar, Cocoa Powder, whole egg; Thickener (412,415) Raising Agents (500,541,341)Emulsifier (471,475,E32 soy lecithin), Salt, Water, Starches(maize, potato, tapioca)soy protein, soy flour, modified starch (1442), Dextrose, colours(122,133,150c), preservative (223,155,202), flavours, vegetable gum(415), sulphites, vegetable oil, palm kernel, vanillin.
Storage Conditions: Store under refrigeration at below 5oC
GMO Status: To our knowledge and information the above product has not been derived from genetically modified raw ingredients.

Allergens: Product may contain traces of Lupin, peanuts, or other nuts, wheat gluten, sesame seeds, milk & milk products & eggs used in the production process