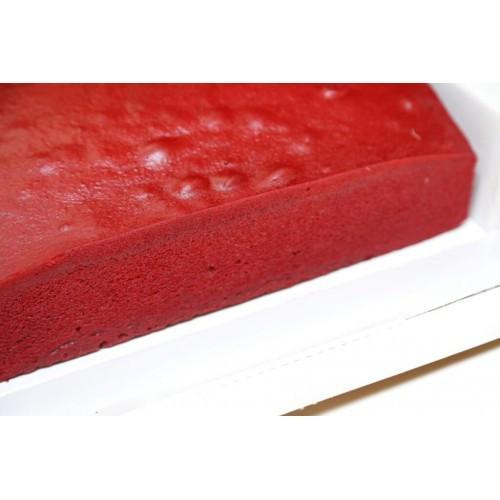 Naked Red Velvet Catering Sheet (30cm x 40cm x 7cm)
The common question asked about our Naked Red Velvet cake is how do we get it so "red"? If we told you we would have to kill you.. sorry!
Tradionally red or red brown in colour, ours is rich red, allowing you to choose your favourite icing to finish. 
30cm x 40cm x 7cm - (

30-50 slices depdending on cut size)

can be frozen up to 3 months Shelf Life in fridge 7 days 
We suggest the best results for decorating is..
Set your cake up cold from refrigerator - cutting - ganaching etc then decorate your cake at room temperature!
INGREDIENTS: Sugar, Wheat Flour, thiamine , folate ,cocoa powder, vegetable oil, antioxidant (307,320,322) vegetable fat emulsifiers (471,477,491,472b)  maltodextrin, potato flour, milk solids, salt, raising agents (341,450,500,541)natural flavor colour (120,102,110),vegetable gum (415),egg powder, Thickeners(1422&415) Humectant(420) whole egg, salt, Pregelatinised maize starch
SHELF LIFE: 10 Days stored below 5C OR 90 Days below -18c
ALLERGENS: Wheat, gluten, dairy soy Product may contain traces of  peanuts, or other nuts, Sesame seeds, milk & milk products & eggs in the Production process.
STORAGE CONDITIONS:  Store under refrigeration less than 5C
GMO STAT\US: To our knowledge and information the above product has Not been derived from genetically modified raw Ingredients.
ALLERGENS; Product may contain traces of Lupin, peanuts, or other nuts, wheat gluten, sesame seeds, milk & milk products & eggs used in the production process.