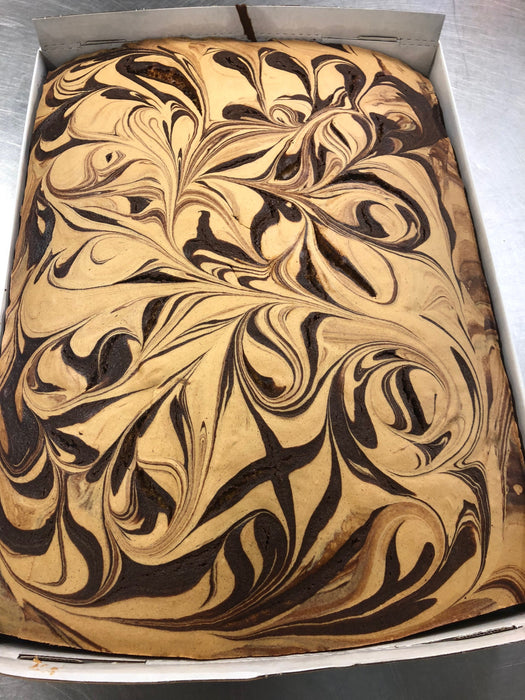 Naked Swirl Mud Catering Sheet (30cm x 40cm x 7cm)
Vanilla ChocolateSwirl is commonly known as a "marble" cake. We take our popular vanilla mix add a touch of yummy chocolate giving each cake its own unique swirly chocolate personality!
30cm x 40xm x 7cm (

30-50 slices depdending on cut size)

Shelf life in fridge 10 days Can be frozen up to 3 months
Available also in cupcakes, mini cupcakes, squares & rounds
We suggest the best results for decorating is..
Set your cake up cold from refrigerator - cutting - ganaching etc then decorate your cake at room temperature!
Happy Decorating!
Ingredients: Wheat flour, sugar, vegetable shortening, vegetable Fats & oils, emulsifiers(471,477)Antioxidants(322,307) Thickeners(1422&415)Raising agents (500,450,541) Humectant(420) milk solids, whole egg, salt, Maltodextrin, flavours Emulsifiers 491,471,472b 477} Pregelatinized maize starch Colours (102,110)
Storage Conditions:  Store under refrigeration less than 5C
GMO status: To our knowledge and information the above product has not been derived from genetically modified raw ingredients.
Allergens: Wheat, gluten, dairy soy. Product may contain traces of Lupin, peanuts, or other nuts, sesame seeds, milk & milk products, eggs, Gluten, soy, sulphite maybe used in the production process.