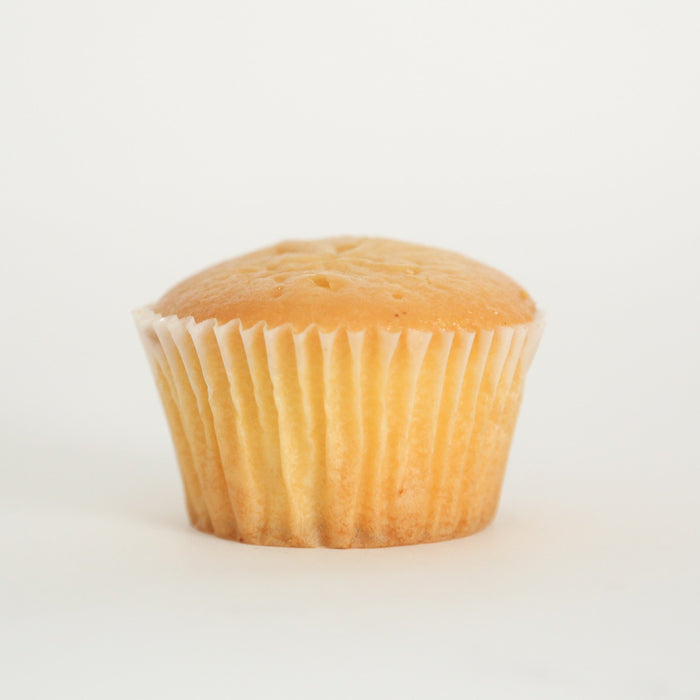 12 Naked White Chocolate Cupcakes No 9 in sample box
White Chocolate mini cups, special occasions deserve special cupcakes - light and fluffy for lovers of white chocolate. - 12 per box
700mm (7cm) - Height: approx 5cm - come in white cups - can be frozen up to 3 months 

12 per box also available in mini cupcakes 24 per box

Available also in rounds squares & Catering sheets 
We suggest the best results for decorating is..
Set your cake up cold from refrigerator - cutting - ganaching etc then decorate your cake at room temperature!
Happy Decorating!
Ingredients: Wheat flour, sugar, vegetable shortening, vegetable Fats & oils, emulsifiers(471,477,472b,491,322,492,soy lecithin) Antioxidants(322,307) Thickeners(1422&415), Raising agents (500,450,541) Humectant(420) milk solids, whole egg, salt, Maltodextrin, flavours, Emulsifiers 491,471,472b 477} Pregelatinized maize starch, Colours (102,110),wheat starch, whey powder,
Shelf Life:10 Days stored below 5C OR 90 Days below -18c
Storage Conditions: Store under refrigeration less than 5C
GMO Status: To our knowledge and information the above product has  Not been derived from genetically modified raw Ingredients.
Allergens:  Wheat, Gluten, Dairy. Product may contain traces of Lupin, peanuts, or other nuts, sesame seeds, milk & milk products, eggs, Gluten, soy, sulphite maybe used in the production process.