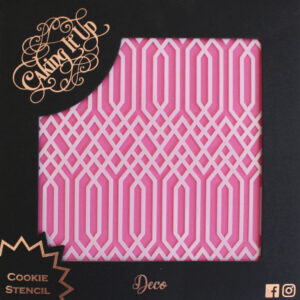 Stencil Cookie DECO by Caking It Up
 New cookie stencils by Karen Reeves of Caking It Up.
Stencil dimensions: 11cm wide x 11cm high
Pattern dimensions: 10cm wide x 10cm high
Add some texture and depth to your creation with this cookie stencil. Perfect for cookies of all shapes and sizes, the stencil pattern area is 4 inches in height and width.

DECO looks amazing when used with a white on white effect, but also stunning when used with contrasting colours.

Stencil dimensions: 11cm wide x 11cm high
Pattern dimensions: 10cm wide x 10cm high